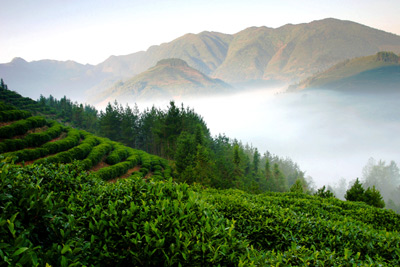 Shaanxi Dongyu Bio-tech. Co., Ltd. (saved as DYBT) is a joint venture, invested by Shaanxi Hanjiang Pharmaceutical Group Co., Ltd, Shaanxi Dongyu Tea Co., Ltd and others. It is located in Zaoyuan village, Shahe Town, Xixiang County, Hanzhong City, Shaanxi Province of China. Its mainly focuses on tea planting, production, sale, and tea extract, tea foods, etc.
DYBT has the registered capital of 40 million. It has a staff of about 130, of which 86 employees are technicians on tea. DYBT has three high mountains organic tea plantation about 1.998 million square meters. And one modern tea demonstration garden of about 0.33 million square meters. Two modern clean tea production lines with capacity of 500 tons per year. One tea ingredient extraction line with capacity of 100 tons per year. Two tea foods production lines with capacity of 200 tons per year.
The tea area here in Xixiang starting from the earlier ancient dynasty of Qin and Han, and popular in ancient Tang dynasty and are one of the best supplier to emperor. Our tea parks locate in the mountains of Qinling and Bashan, belongs to the very north tea area of high altitude, high latitude, high temperature difference, full of oxygen and zinc. The area is far away from city, its soil, air and water are nature and no pollution, which is very suitable for the growth of good tea. The trace elements in tea, such as zinc, selenium, etc., tested by the state tea research center, shows that it is higher than that of other tea area in china. The tea from our gardens has about 50-80 mg of selenium per kilo, about 3.0 mg of zinc per kilo and about 35-40% of tea polyphones.
DYBT has built modern tea ingredients extraction line, which is complying with food and drug management practices, such as cGMP, using current up-to-date process to extract tea polyphones. The product can be used well in food as well as in drugs. The stable quality and registration are well-known in clients. DYBT has lots of stable domestic clients, and also some in USA, EU, Japan, etc.
On quality management, DYBT follows the requirements of GAP, and also did the registration of sanitation, enterprise. It has got the certificate of QS, ISO9000, HACCP, ISO22000, HALAL, etc. We have the instrument s of UV, dryers, and also HPLC, GC, IR, etc. Meanwhile, our product has had the registration of DMF in some countries so as to satisfy the different requirements of clients.
"basing the domestic and facing the world, finely producing the tea and healthy the human" is our goal. DYBT will strictly follow the requirements of law and others, to satisfy the clients and people, grand the market and make the brand of (dong) to be more famous.